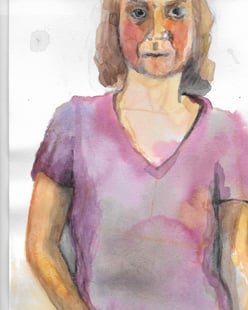 ANIMAFEST PRO | ANIMAFEST SCANNER VIII | SIMPOZIJ O SUVREMENOJ ANIMACIJI | Panel 1 – ANIMATION AND THE LIVING: How Animated Films Can Invite Us to Rethink Our Relationship with Biodiversity
Ecologies of Contact in Handmade Insect Animation - Vicky Smith (University for the Creative Arts Farnham, UK)
Panel 1 – ANIMATION AND THE LIVING
08/06, UTO 12:20 – 12:50, Kino Tuškanac
Insects and their habitats inspire and feature in many animated films yet, frequently anthropomorphized, these representations do not reflect current post and anti-humanist theses: that human and non-human bodies actually rarely recognise, or come close to one another (Colebrook, 2014: 37). This presentation argues that the high contact levels involved in handmade animation yields haptic and indexical imagery of traces and imprints that, often evading the control of the mechanical or digital, can manifest a more relational intermingling of living things. Degrees of contact with film materials and insect matter in handmade film vary: Stan Brakhage's controlled application of moths to film in Mothlight (1963), makes no attempt to involve the insects themselves as co-creators of the work (Silke Panse, 2013: 2). At the opposite, hands-off extreme, Emmanuel Lefrant's burial of analogue film, Partie visible et invisible d'un ensemble sous tension (2009) is enlivened with chthonic organisms. Also concerned to materialize the otherwise unseen of the creaturely, Vicky Smith's Not (a) Part (2019) renders visible the bodily fluids of (dead) insects, while in Margaret Tait's Garden Pieces: Fliers (1998), sketchy lines scored into film make visible the relations between airborne creatures and the force of the wind. Encouraging conditions for nonhuman forces to become perceptible, these and other handmade animated insect films exemplify the potential to disrupt anthropocentricism, thus promoting a rethinking of our relationship with biodiversity. The presentation will draw on post-humanist and ecological film studies to better understand the possibilities for de-centering the human subject in film, such as the questioning of the centrality of the gaze in establishing relations of familiarity (Pick, 2015); the place of haptic, materialist, DIY imagery in cinema (Knowles, 2020) and the proposition that the non-human altogether defies representation (Colebrook).
References: Colebrook, Claire (2014) Death of the Posthuman: Essays on Extinction, Vol 1, Open Humanities Press; Knowles, Kim (2020) Experimental Film and Photochemical Practices, London: Palgrave Macmillan; Panse, Silke & Pick Anat (2013) Screening Nature: Flora, Fauna and the Moving Image
Dr Vicky Smith is an artist and researcher who works in experimental animation to express different perspectives on bodily relations to a broader ecology of vulnerability. Her work screens internationally, in galleries and festivals, currently in "A Picture of Health" at Bristol Arnolfini (2021). She runs workshops in experimental film practice including at Arnolfini, Bristol Experimental & Expanded Film: BEEF and Lux, and has curated related film screenings, such as Go, Go, Go! Women in Experimental Animation (2019). Publications include, most recently, Hand Drawn and Non-Natural Colour in Films by Barbara Hammer and Sandra Lahire (2021) in Animation Studies 2.0 (https://blog.animationstudies.org/?p=4040), Experimental & Expanded Animation: Current Perspectives and Practices, co-edited with Nicky Hamlyn (2018) and Not (A) Part: Handmade Animation, Materialism and Eco-aesthetic Cinema (2019) in Animation Practice, Production & Process issue 7.