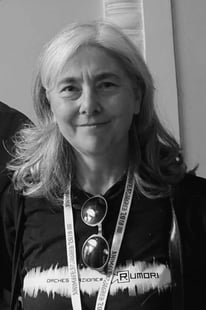 ANIMAFEST PRO | ANIMAFEST SCANNER VI | SYMPOSIUM FOR CONTEMPORARY ANIMATION STUDIES | ANIMAFEST SCANNER VI - PANEL 2: ANIMATION AND FINE ARTS
The "Simultaneous" Art of Theodore Ushev - Paola Bristot
This proposal is meant to present the animation work of Theodore Ushev, with a particular focus on his contemporary re-elaboration of avant-garde artistic styles. It is very interesting how Ushev manages to interpret, with his own personal style, artistic movements such as Constructivism, Supremacism, Cubo-Futurism, Surrealism, and Expressionism… and now with his latest work in progress PsyKedelic depicts the psychedelic movement by dhering not only to the form, but also to the concepts that these styles recall. As a matter of fact, his main strength is a very defined mental concept he communicates through his film: this approach is evident in films such as Gloria Victoria (2013), Drux Flux (2008), Tower Bawer (2005), where there is a strong political and revolutionary inspiration; or with a more playful and ironic charge such as The Sleepwalker (2015), or even something close to Viennese Actionist movement in Blood Manifesto (2015).
Theodore Ushev, was born on 4 February 1968 in Kyustendil, Bulgaria, and his father, Asen Ushev, was already a great artistic reference for him. Later he devoted himself to animation and moved to Canada where he actively collaborates with the NFB. One of his most iconic work is Blind Vaysha (2016), Oscar-nominated in 2017. The film incorporates a strongly expressionist style, on one hand medieval and on the other very contemporary, and refers to the concept of dystopian reality that we are experiencing nowadays and which is in this story revealed in all its dramatic nature. Past and present overlap, partly blurring the contact with reality. The cinematic and visual work of Theodore Ushev connects with the real state of things that happen, even if translated in a poetic and visionary way. His style thus becomes original thanks to the way he interprets and actualizes some artistic and historical principles, making them still alive and up-to-date.
Paola Bristot, graduated in Discipline Arti Musica Spettacolo, from the University of Bologna(1985) and specialized in Contemporary History Art from the University of Bologna (1991). She is professor of History of Art at the Academy in Venice. As president of the Viva Comix association, she organises many exhibitions focusing on comics, illustration, animation and visual arts. She is the Artistic Director of the Piccolo Festival Animazione (12th edition) in Trieste, Udine, Pordenone, Gorizia and Venice. She curated, with Andrea Martignoni, the 5th DVD Animazioni (2010-17, Viva Comix, Ottomani), an anthology of contemporary Italian short film. As an art director she produced the experimental film Re-cycling (Arte Video, Viva Comix 2014).