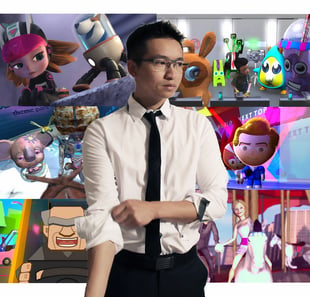 ANIMAFEST PRO | ANIMAFEST SCANNER IIII - Symposium for Contemporary Animation Studies | PANEL 4: NEW MEDIA ANIMATION – VR AND THE WEB
Uncovering the Human Anatomy through Animation: An Interactive VR tool - Peter Chanthanakone - University of Iowa - USA
7/06 WED 16:20 - 16:50 Chilloutka, Ilica 15/1
The human body is a complex system of anatomical structures critical to normal functioning of existence. Doctors in training are educated in both normal and disordered anatomy and physiology. Given that the human framework, intrinsic and extrinsic musculature, and nervous inner­vation are not easily visualized, attaining that knowledge can be challenging. The majorityof people view photographs and illustrations, and maybe supplemented by videos. Further, simply viewing this form of material does not offer significant opportunity for people to "interact" with it, nor to adequately conceptualize it in three dimensions.The collaborative efforts of medical expert Jerry Moon, computer science specialist Joseph Kearneyand 3D animator Peter Chanthanakone have teamed up to develop an immersive reality tool for visualizing anatomy and physiology.
Using Oculus Rift (OculusVR, LLC), the proof of concept was created. This presentation will show the way scoll aboration of science, technology and art are creating a new approach to learning and understanding the human body. While further technological developments include smartphone app platform and joystick controls to navigate the user interaction, animation will play an important role to visualize the way the human body works in ways our natural senses cannot provide.
Peter Chanthanakone is an award-winning director and producer specializingin 3D animated short films. He won numerous film festival awards and his works has been selected in major film festivals around the world. Cumulatively, his work has been selected in over 60 international juried competitions. He is also a jury member for the prestigious Electronic Theatre for Siggraph Asia and director and producer at RiFFAnimation Studio in Bangkok, Thailand. Peter is a perennial international speaker, with talks at the Seoul International Cartoon and Animation Festival, Asia Animation Forum, the International Symposium of Electronic Arts in Dubai (2014) and Hong Kong (2016), Society of Animation Studies in Toronto (2014), andvisiting artist talks at the world's top animation school, Sheridan College, Nanyang Technological Universityin Singapore, among others. Peter is currently an Associate Professor of animation at the University of Iowa and has also taught at Brock University (Canada), Grand Canyon University (Phoenix), Stanford, Villa nova and his research involves animation production and accelerating the animation pipeline for independent short films.