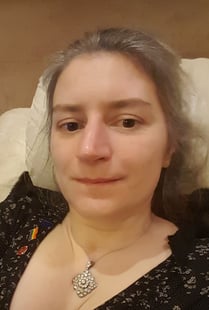 ANIMAFEST PRO | ANIMAFEST SCANNER IIII - Symposium for Contemporary Animation Studies | PANEL 4: NEW MEDIA ANIMATION – VR AND THE WEB
Making the VR leap: Exploring Opportunities for Animators to Enter and Explore Their Art and Creativity within the World of Virtual Reality - Sophie Mobbs - Middlesex University - United Kingdom
7/06 WED 14:30 - 15:00 Chilloutka, Ilica 15/1
Virtual Reality is nothing new, indeed, the medical profession have been experimenting with virtual reality as a method to treat burn patients for over 10 years (Hoffman et al, 2000). However, it is only in the past couple of years that the technol­ogy has become accessible enough, and cheap enough, for artists and animators to begin explor­ing their craft within this world, without the need to access complex and expensive equipment in a science laboratory. Opportunities are opening up for artists and animators to collaborate with sci­entists and psychologists to work within the field of serious gaming and the use of virtual reality as a medical tool to treat pain, anxiety and distress in patients. In this presentation, I will draw examples both from my own current scholarly and practical research as an animator creating characters for virtual reality environments, and my prior experience as an animator working in the games industry. Illustrating through emerging animation practice within VR, this presentation will discuss some of the pitfalls and considerations facing animators wishing enter this field.
How can animators address their concerns over this newly accessible medium? And how can animators grasp the opportunities that virtual reality is opening up, both within scholarly research, serious gaming and new approaches to narrative?
Hoffman, H.G., Doctor, J.N., Patterson, D.R., Carrougher, G.J. and Furness III, T.A., 2000. Virtual reality as an ad­junctive pain control during burn wound care in adolescent patients. Pain,85(1), pp.305-309. Keywords: animation, Virtual Reality, interdisciplinary, medical applications, treatment of pain, serious gaming.
Sophie Mobbs is a senior lecturer and the programme leader of BA 3D animation and games at Middlesex University in London. She specializes in teaching 2D and 3D animation and animation, character creation, and art for virtual reality narratives and games. Her research interests focus on animation with regards to body language, and the use of virtual reality and animation to provide relief from pain, anxiety and stress. More specifically, she uses a creative practice research methodology to explore the relationship between non-verbal communication and animation, and the use of interactive animated avatars within virtual reality settings. Prior to working in higher education, Sophie spent 10 years working as an animator in the games industry, where she took particular interest in character and monster animation and worked for companies that included Sony, Silicon Dreams and Rebellion, contributing to eight published games across various platforms.