Late Night Work Club: Strangers / Late Night Work Club: Strangers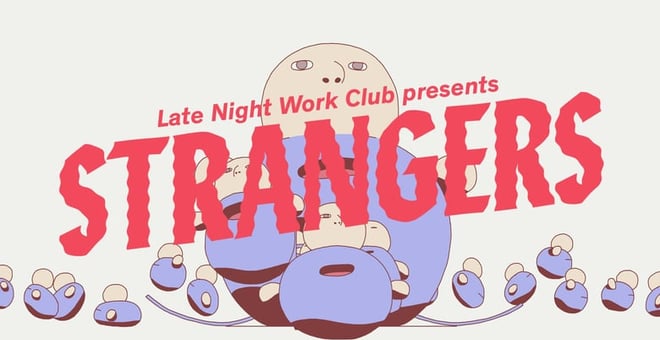 Late Night Work Club: Strangers / Late Night Work Club: Strangers
Jeanette Bonds, Sean Buckelew, Alex Grigg, Kirsten Lepore, Loup Blaster, Nicolas Menard, Caleb Wood Wood
United States, United Kingdom, France, Australia, Canada / 2016 / 42' 25''
Projections
Tuesday, 06. 06.,
Art Park, 22:00 h
Synopsis
The American independent animator art collective Late Night Work Club (LNWC) penetrated the global scene with their omnibus Ghost Stories(2013), whereas their second anthology Strangers launched individual authors like Kirsten Lepore, Jeanette Bonds and Sean Buckelew in the spotlight as new global animation celebrities. Buckelew and Lepore compete in Animafest 2017 Grand Competition – Short Film with segments from Strangers.
Sean Buckelew is an award­winning animator who received an MFA from the California Institute of the Arts in experimental animation and a BFA from the School of the Art Institute of Chicago. His professional work includes directing a sequence for the Zac Efron film We Are Your Friends and working as a storyboard artist and animator on the Davis Guggenheim documentary He Named Me Malala. He is also a member of the online collective Late Night Work Club, and has worked with clients including MTV, Arctic Monkeys, VH1, Adult Swim and on Chris Sullivan's award-winning feature Consuming Spirits, in addition to screening his own work at the Slamdance Film Festival, Ottawa International Animation Festival, and others. He lives in Los Angeles.
Kirsten Lepore is an LA-based director and animator, and alumna of CalArts. She recently wrote and directed an Emmy-winning stop-motion episode for Cartoon Network's hit show, Adventure Time. Her films have taken top prizes at SXSW, Slamdance, Stuttgart Animation Festival, Florida Film Fest, Arizona Film Fest, Vimeo Awards, the Annie Awards and many others. She's given talks everywhere from Pixar to Portugal and has also been featured in Juxtapoz, Shots Magazine, Animation Magazine, and named one of the 50 most creative people by Creativity Magazine.
-
Director
Jeanette Bonds, Sean Buckelew, Alex Grigg, Kirsten Lepore, Loup Blaster, Nicolas Menard, Caleb Wood Wood
Production
Late Night Work Club
categories
Late Night Work Club (06.06. 22:00h)