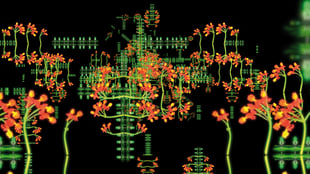 SPECIAL EVENTS | Exhibitions | Animation goes MSU: Media facade (26/05-14/06)
ANIMATION GOES MSU!
Date and time: May 26 - June 14, 2015
Venue: Museum of Contemporary Art, Zagreb
ANIMATION GOES MSU! – the media façade of the Museum of Contemporary Art, 26 May – 14 June, will show 16 site-specific animated works from all over the world (Australia, France, USA, Croatia, Italy, Poland, Hong Kong,Great Britain, South Korea, Germany, Slovenia)
These are the winners of a large competition for site-specific animation, selected on behalf of the now traditional collaborators, Animafest and MSU, by Daniel Šuljić and Leila Topić.
Novi Zagreb's atmosphere this year again takes the form of the World Festival of Animated Film – Animafest! In the fourth year of collaboration between Animafest and Zagreb's Museum of Contemporary Art named Animation goes MSU, thanks to the open call for animation entries we present 16 animated works by international and local artists on MSU's media façade.
The by-passers walking past the Museum will thus be able to enjoy the works characterised by the diversity of creative approaches to animation, as well as innovative adaptation of existing works to MSU's three-part media façade. We definitely highlight the film by of the leading Croatian masters of comic book and illustration Danijel Žeželj, whose media façade piece is a version of his film Thousand. Max Hattler, a young German multimedia artist, whose attention was this time captured by playing with patterns of the South American Indian tribe of Wayuu, acts in a dialogue between figuration and abstraction. The globally acknowledged image of raising the American flag in Iwo Jima and its deconstruction and re-contextualisation is the theme in the focus of American artist John Gage's interest.
Deconstruction of portraits of prominent Croatian artists is the focus of TomislavMikulić's interactive animation project. He offers an engaged observer a chance to take a photo of his animated film from a special photo camera angle which results in the photographs of the portraits that are otherwise invisible to the eye. Simona Galizia has only recently graduated in animation and her film Cycle represents a daily routine repeated in time, while Stjepan Milas, also a young animator, plays with colour contrasts and intensities in order to visualise a simple idea of birds that are visible only when trees lose their foliage.
Abstract animation is a space of freedom gladly appropriated by Ola Wasilewska, Maja Kalogera and Sabrina Schmid, each developing their own individual and rounded up visual language. Nikki Schuster's work is particularly interesting – she animates plant elements in her work named Microphobia, and Tracy Miller-Robbins's work is a meditation of morning coffee. Korean author Yunjung Jang presents an impressive sand animation to convey the memories and remembrances of an old Korean woman, while film tape's materiality as a medium inspired the work Sprockets by Australian artist Dirk de Bruyn.
The façade's three parts were fully utilised by young Slovenian author Damir Grbanović, telling a humorous tale of a young couple's big game fishing, and Nikola Uršić's two-minute animated vignette Gymnastics for the Elderly is equally funny. The selection of this year's media façade projections closes with an animated abstraction by the New Zealand-based Croatian artist Ivan Mršić in which simple elements gradually turn into more complex and dynamic abstract forms. (Leila Topić)
The list of all works to be screened on MSU's media facade within the scope of Animation goes MSU:
1001, Danijel Žeželj (Croatia)
–O|, Max Hattler (Venezuela/Great Britain/Germany)
Scratch, John Gage (USA)
String portraits, Tomislav Mikulić (Australia)
Cycle, Simona Galizia (Italy)
Tramps, Stjepan Milas (Croatia)
Dear Claude, Maja Kalogera (France)
Physiologus, Ola Wasilewska (Poland)
Abstract Iterations, Sabrina Schmid (Great Britain)
Morning Coffee, Tracy Miller-Robbins (USA)
A BeautifulDay: Memory, Yunjung Jang (South Korea)
Microphobia, Nikki Schuster (Germany/Austria/RSA)
The BIG catch, Damir Grbanović (Slovenia)
Gymnastics for the Elderly, Nikola Uršić (Croatia)
Sprockets, Dirk de Bruyn (Australia)
Mimic Language, Ivan Mršić (New Zealand)