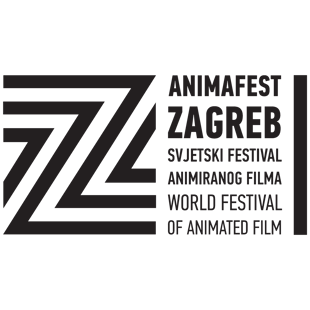 Dear friends of animation,
Welcome to the web pages of the World Festival of Animated Film Animafest Zagreb. Since its establishment in 1972, this festival and its competitions, retrospectives, presentations, exhibitions, pitching forums, lectures, awards, panoramas, workshops and all other additional events have consistently influenced and greatly contributed to their city's artistic life, as well as promotion of animation art throughout the world.
This is a festival by the filmmakers for the filmmakers. Creative animation, in all its different forms – from traditional drawings, to stop motion, CGI, to most experimental cross-media explorations – has been the focus of attention since the very beginning. Filmmakers from all four corners of the world know that coming to Zagreb means joining friends, benevolent colleagues and an audience that recognises, appreciates and loves their works. You can meet all of them, from the biggest named boasting outstanding filmographies, to the up and coming new talents and students, in a theatre seat next to you.
Animafest Zagreb is a place of inspiration, creativity, exchange of ideas, innovation, communication and international diversity. Z… is for Zagreb!
Daniel Šuljić
, Art Director
The World Festival of Animated Film – Animafest Zagreb, established in 1972, is the second oldest film festival in the world completely dedicated to animation. Launched thanks to the global reputation of the filmmakers sprung from the Zagreb School of Animation, founded based on the decision of ASIFA, International Animated Film Association, Zagreb Film production company and City of Zagreb, Animafest Zagreb takes place every year early in June. Until 2005 the festival was held biennially, and afterwards continued in the annual rhythm, devoting even years to short film and odd years to feature film. After Zagreb Film and Zagreb Concert Management, in 2007 the festival organisation was taken over by the private production company Hulahop with the aim of further development and balancing the programme with the requirements of contemporary tendencies, approaching broader audiences and providing added values to professionals. In 2015 Animafest Zagreb merged short and feature festival editions and became festival dedicated to animation in all its forms on annual basis.
Animafest Zagreb always has been, alongside festivals in Annecy, Ottawa and Hiroshima, a part of the obligatory circuit in the animation community's calendar. Animafest's Grand Prix winners directly qualify for the Academy Award and the European Animation Award.
As one of the leading international animation events and the only Croatian film festival with such a status, Animafest Zagreb serves as a bridge between the animation scene and the local audience (more than 80 per cent of the selection consists of premieres), but also actively creates it, continually raising the level of audiovisual culture in the society. The Zagreb festival therefore presents the best and latest works competing for prestigious awards and the most relevant and interesting trends. Through entertainment, socialisation and learning, Animafest connects citizens of all generations and respected guests from different parts of the world at a large and colourful festivity paying tribute to animation art.
Read more:
Z… is for Zagreb
The festival slogan Z… is for Zagreb, designed by film scientist and critic Ron Holloway, says a lot about the connection between Zagreb and Animafest – the connection making both the city and the festival recognisable all across the globe. Taking place at numerous locations, from the central Europa theatre which took over the role previously played by the Vatroslav Lisinski Concert Hall, to Cinema Europa and Tuškanac, to museums and galleries, to local cultural centres, Animafest breathes with the city where it was born.
Animafest Zagreb is a festival of Zagreb people and all those who feel at home here, regardless of their age: the Children and Youth Programme consists of films selected by experts and categorised by age for the youngest film lovers and their parents. High schoolers get their first insight into experimental and avant-garde tendencies. Evenings are dedicated to entertainment at concerts and various side events; experienced animation devotees plan their schedules for months in advance not to miss a thing.
Our great family


Animafest's award winners and faithful friends, the leading animation artists have made this festival a great homecoming. Norman McLaren, Bob Godfrey, John Halas, Michela Pavlátová, Joanna Quinn, Jiří Brdečka, Yoji Kuri, Jurij Norštejn, Osamu Tezuka, Nick Park, Priit Pärn, Theodore Ushev, Lei Lei, Atsushi Wada, Mirai Mizue, Otto Messmer, Piotr Dumała, Alexander Petrov, Jan Švankmajer, Isadore Friz Freleng, Michaël Dudok de Wit, William Hanna i Joseph Barbera, Koji Yamamura, Břetislav Pojar, Bruno Bozzetto, David Dave Fleischer, Stephen i Timothy Quay, Caroline Leaf, Paul Driessen, Michel Ocelot, Frederic Back, Fjodor Khitruk, Nicole Salomon, Chuck Jones, Jim Henson, David Silvermann, Andreas Hykade, Rosto, David OReilly... It is impossible to name them all. Their visit to Zagreb has always been a cause for celebration, both for the time spent with colleagues – at the traditional picnic – and for the discussions and working with the audience, especially the youngest.
The great authors of the Zagreb School, Dušan Vukotić, Vatroslav Mimica, Zlatko Bourek, Boris Kolar, Zlatko Grgić, Ante Zaninović, Nedeljko Dragić, Borivoj Dovniković, Pavao Štalter, Zdenko Gašparović, Joško Marušić, Krešimir Zimonić etc. have equally competed in international categories, and most of them invested great efforts in the festival organisation as well, as directors, programme consultants, Festival Council members. In the 1990s, young filmmakers Simon Bogojević Narath, Daniel Šuljić, Veljko Popović, Marko Meštrović, Michaela Müller, Marko Tadić and others followed in their footsteps. The festival direction has traditionally been trusted to world-acclaimed Croatian animators, which is a unique practice making sure that art and its requirements always come first.
Good to know
When in 1969 the ASIFA session in London decided to launch the Zagreb festival, it was meant to take place biennially and take turns with the festival in Annecy, which was by that point held eight times. As a sign of close collaboration, the first Zagreb festival bore the name the 9th World Festival of Animated Film. In the age of the Cold War, Eastern Bloc countries saw Zagreb as the stage and window to the world, a meeting point with the West.
The festival logo (Z) and the first poster were made by Borivoj Dovniković Bordo and Zlatko Bourek. The festival mascot Mandlek, a little man with a bowler hat, is redesigned every year. Historically, the most famous is the one designed by Zvonimir Lončarić, the long-time festival poster author. The recognisable festival jingle was composed by the renowned jazz musician Igor Savin. The Mr. M Audience Award was named after the first festival director, Mr Želimir Matko. The first festival in 1972 received 308 entries – in 2018 more than 1800.
See you at Animafest!